Booklets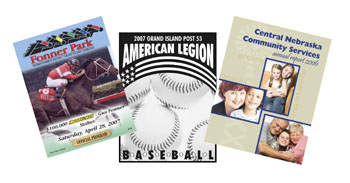 Booklets are used for everything from directories to programs. We can produce booklets of virtually any size or design from conception to finished piece. We understand you're looking for a high quality booklet on time and within a budget. We publish on-demand publishing where, when, and how you want it, in quantities you require. At Copycat Printing we can do just that!
Pricing
A two sheet, two sided booklet, black print on copy paper, folded in half with two staples through the center. Black print cover on white card stock copy paper, 250 quantity.
*Starting as low as $.97 per book!
A nine sheet, 11 x 17 two sided black print on standard copy paper. One Color one sided cover on card stock copy. Includes typesetting, folding in half, stapling through the center. Based on 500 quantity.
*Starting as low as $2.79 per book!
*On disk, no typesetting $2.19 per book!
A five sheet, two sided 8.5 x 11 booklet, black print on color copy paper of choice, folded in half and stapled through the center, quantity of 2,000. No typesetting or graphic adjustments included.
*Starting as low as $.64 per book!
*For a customized estimate on your specific booklet, please call us at (308)384-8520 or request an estimate via our web site. Please note, all prices subject to change at no notice.