Business Cards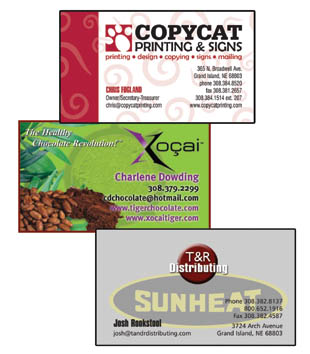 We can design and print business cards that incorporate your personal or company identity. These can range in format from basic black & white to impressive, full-color designs. Let our graphics department work for you, whether its a simple black on white basic card your looking for, or a full color sharp looking card to set you a-part from your competitors, we can design it for you.
Please contact one of our friendly CSR's and they'll be happy to give you a free estimate on your business card needs.
Business cards on average take about 7-10 business days to complete after order is place. This varies depending on our current work load but we try and get everything in and out of our shop in this allowed time frame. If you are in a time crunch and are needing your cards quicker, please let our CSR that you speak to at the time you order what your dead line is and we will do everything in our power to get you your product on time.